Aleta Trauger is the recipient of the American Inns of Court Professionalism Award for the Sixth Circuit
https://www.innsofcourt.org/AIC/Awards_and_Scholarships/Professionalism_Awards/Professionalism_Awards_Recipients/2020_6th_Trauger.aspx
2020 Professionalism Award for the Sixth Circuit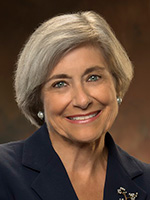 ALEXANDRIA, VIRGINIA—Aleta A. Trauger has been selected to receive the prestigious 2020 American Inns of Court Professionalism Award for the Sixth Circuit. Since 1998, she has served as a U.S. district judge in the Middle District of Tennessee.

"Judge Trauger has demonstrated extraordinary industry, character, and intellect in every position she has held in her distinguished career," say Chief Judge Waverly D. Crenshaw Jr. and other colleagues, who nominated Trauger for the award. "Even more remarkable is the fact that, throughout her career, she has been the first or one of the first women to hold each position." It is fitting, they note, that Trauger became the first woman in the Sixth Circuit to receive this award as the Nineteenth Amendment celebrates the hundredth anniversary of its ratification in Tennessee.

Before becoming the Middle District's first female judge, Trauger was the first woman U.S. bankruptcy judge for the Middle District. Earlier, Trauger served as the first woman chief of staff to Nashville's mayor, a partner at the Nashville firm Gilbert Frank & Milom/Wyatt Tarrant & Combs, and in-house legal counsel for the College of Charleston. She also served as an assistant U.S. attorney in Illinois and Tennessee. In the latter role, she helped lead the prosecution of Tennessee Governor Ray Blanton for extortion and other crimes, a victory that won Trauger a 1981 Special Achievement Award from the U.S. Department of Justice. Even before she was admitted to the bar, Trauger received special dispensation to appear on behalf of the plaintiffs in a lawsuit brought to desegregate Tennessee's higher education system, litigation she returned to while in private practice.

Trauger was a founding member of the Tennessee Lawyers' Association for Women and served as its second president. "At a time when women were still relatively new to the bar in Tennessee, she was able to use her formidable skills to pave the way for other women in the legal community," says Kim Looney, Esquire, the current president. Trauger was also a founder and second president of Nashville's Lawyers' Association for Women. She is a long-time member of the National Association of Women Judges and a Master of the Bench member of the Harry Phillips American Inn of Court.

Trauger received her undergraduate degree from Cornell College in 1968 and her law degree from Vanderbilt University Law School in 1976.